Get Ready to celebrate Little Tikes 40th Anniversary with 4 ALARM Spray and Rescue Fire Truck Fun! The Little Tikes Spray and Rescue Fire Truck is ready for action when your little one is ready to go. With the playful appearance of a real fire truck with 2 ladders and a water hose that really spray's water your little Tike can get in and drive to the next destination for water spraying fun.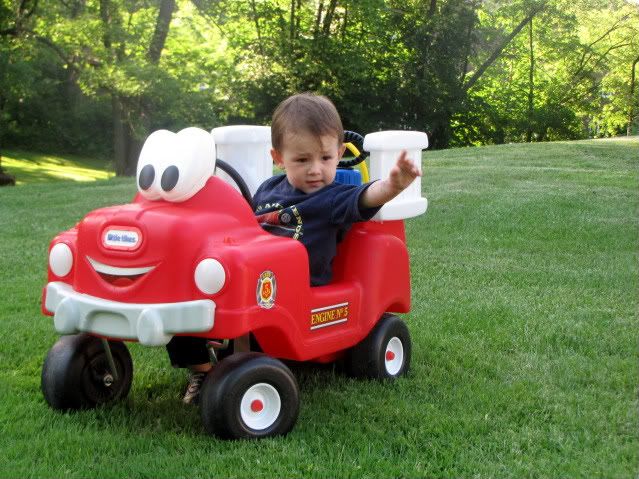 This kid powered ride on is exceptionally cute. We love the design, and with Little Tikes you know your getting excellent quality.
Great Features:
Kid Powered Ride on; Foot to Floor
No Batteries Required
For Ages 1 1/2 to 5 yrs old
Adorable Smiling face on the front
Lower on one side to make it easy to step into
Pressurized Water Sprayer with pump action to activate a real squirting hose
Water Tank is removable for easy fill
Handy spot to put the hose when not in use
Cons
Need to Drill a few holes to complete assembly
Pressurized tank occasionally leaks air doesn't completely seal resulting in lower squirting power
Our Experience:
When my boys saw the Little Tikes Spray and Rescue fire Truck arrive UPS you should of saw them run toward the driver while he was carrying it. Too funny! They were so excited. They immediately wanted to put it together. Right on the front lawn we opened the box and took out all of the pieces. At first site it is a bit overwhelming. Take it one step at a time. That makes it easier. My oldest jumped in to help me which is a great relief. I'd rather take all the pictures as he put it together. The first few steps were very easy. Little takes directions are simple and easy to follow and we love that the pieces where labeled.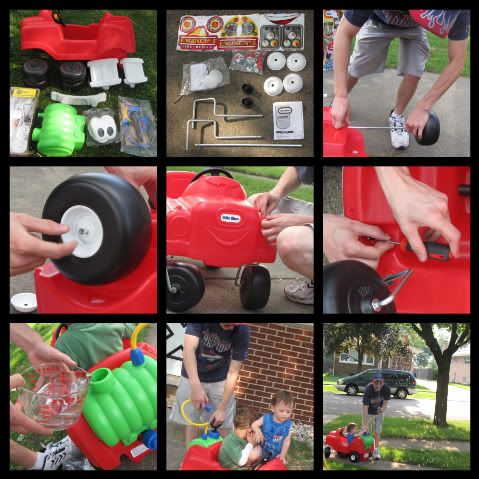 Most of the holes are pre-drilled and ready for pieces to be inserted. Some are not so make sure you have a Drill to complete the last few steps: putting on the eye balls and the side ladders.

The 2 gallon water tank is removable and this makes it easy to fill up or take with you to another location. The tank pressurizes by pumping the handle on the top and then it releases the water by squirting out the hose. Don't over pump the tank because you will cause the pressure seal to break and then the tank won't work properly. The hose shots super far upon our first initial tests, but after a few days of working it…let's just say occasionally it won't squirt now unless your continuously pumping. Tomorrow we are going to pick up a washer to insert in there to see if it stops the air from escaping. We have found that you do need to make sure the hose is tight as well as the cap to the handle that pumps.
My boys absolutely love the Little Tikes Spray and Rescue Fire Truck. The seat is perfect for one rider and it is tons of fun. I love that it doesn't tip even if a child stands up in the seat. My 2 yr old likes to run behind it and the ladders are at the perfect height for him to push from behind. There is a working horn to toot and a lovable smiling faces welcomes you for another ride.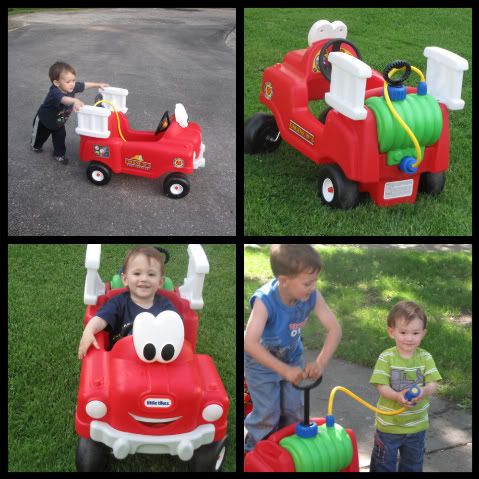 Available any where Little Tikes is Sold
Retail Price: $69.99
Spray and Rescue Fire Truck GIVEAWAY
WIN IT: Little Tikes is generously offering a Spray and Rescue Fire Truck for one Lucky Night Owl Mama Reader
Required Entry: Head over to Little Tikes and have a look around. Find another product you love and come back and tell me what it is. You don't need to be a blogger to enter. Leave me an email address to contact you if you win. (U.S. Only)


Additional Entries after Required has been fulfilled:
Like Little Tikes and write on their wall "Thanks for the Little Tikes Giveaway @Night Owl Mama" you and then Friend Nightowlmama
5 Entries: Blog about this giveaway with a link here and one to www.littleTikes.com
Follow @LittleTikes on twitter and @NightOwlMama

Tweet this Giveaway 3x daily: Win Little Tikes SPRAY AND RESCUE Fire Truck #Giveaway @Nightowlmama http://bit.ly/9ccUZbama (*Don't SPAM Your FOLLOWERS- leave at least 1 hour between TWEETS)

Unlimited: Name Another Little Tikes product you absolutely would love for your little one
Enter another giveaway of mine (find them on upper right hand side bar (1 for each you enter)
Enter any giveaways at Life Is A SandCastle or I Like It Frantic and let me know which one's
Unlimited: Leave a comments on any Non-giveaway posts leave title here
Rules: Giveaway is open to U.S Residents Only! Ends June 20th at 11:59pm.CST Must be 18 yrs old to Enter Only 1 person per household may enter. Winner will be drawn using Random.org and contacted by email, given 72 hrs to respond before forfeited and a new winner will be chosen. Prize will be sent directly to the winner from Little Tikes.
Disclaimer: Little Tikes supplied product was received for Little Tikes Spray and Rescue Fire Truck Review Giveaway. Opinions expressed are 100% my own. No monetary compensation was received.
Thank you Little Tikes for our 40 years of Amazing Products. Everyone of my children have enjoyed them from my oldest to my youngest. The one's we purchased and received as gifts