Disney 3D Wall Decor Wallables Interactive Fun for Kids
Decorating kids room can be an adventure. Many decide to go with the old boring paint and some possibly may do murals and these are all wonderful, but how about a bit more excitement. Step into the world of 3D wall decor Wallables. Children will love these fun interactive friends that hang out on the wall til they are ready for play and adventures over and over again.
Wallables 3D dimension of wall hanging fun are durable and kids love them. They are made from revolutionary foam material that is not only eco-friendly, but lightweight, soft and safe for little one's to cuddle with, too. You'll find bright colors and fun characters your child may already know. Having Wallables in reach kids can easily apply them to the wall with a velcro tab, take them down for play and put them back up before bed.
You'll find such memorable Disney character such as Tinker Bell and her fairy friends, Toy story's own Woody, Buzz light Year, and even Rex the dinosaur, too. If your little one's a Cars fan you won't be able to pass up this friendly duo; Lightening Mc Queen and his best friend Mater. Wait that's not all. There are so many characters and 3D wall decor to choose from. Brighten up a child's room with Soft Smiles; Sun, Butterflies, Dottie the dragon fly. Send your child into dream land with the cutest 3D bright Moon, adorable night time smiling stars that will sure to give your child sweet dreams. Coming soon lovable Jungle Sweeties for Jungle Safari adventures right in your own home. A wonderful fun talking alphabet adds fun to learning A, B, C's and even a child's name.

We were sent Mater. Mater arrived and was loved from the moment he was takin out of the box. My boys are huge Disney Pixar Cars fans and just the other day I was tweeting that my Cars Movie was over played and we needed to pick up a new one.
Wallables Mater has such wonderful detail. He's incredibly made and looks exactly like he does in the movie, big teeth and all. No kidding!! My boys adore him.
Mater costs: $23.99
Our Thoughts: At first I had no idea what the packaging meant by interactive. I looked for a button to press and thought it talked. No button just the velcro patch for securing to the wall on the back. I handed him to my 4 yr old son and walked up stairs. My son followed and I over heard him asking Mater if he wanted to see his room. This is when I understood the interactive part. They became friends fast. Wallables are much more exciting than the cheapy stickers that we have on the wall. You can see our Lightening Mc Queen in the photo. We'll certainly need to replace that with a Wallables. You can also see that these are a great size for kids, too.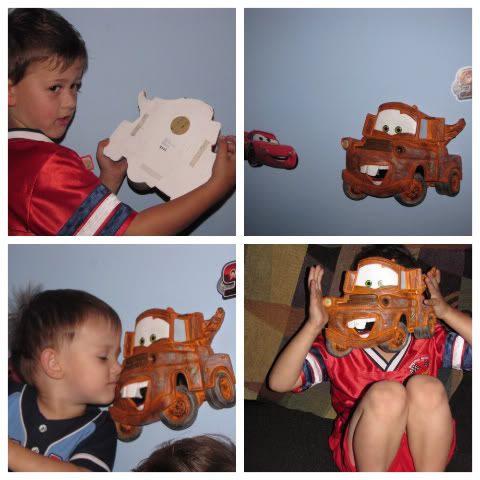 Wallables are available for purchasing on line and even at KMart too
Find Wallables on Twitter @wallables
and be sure to like them on Facebook, too.
What theme for decor do you have in your child's room? Is it as exciting as Wallables?
Disclaimer: Product featured above was supplied free of charge for review in exchange for our honest opinion. Thoughts are 100% are own.
Thanks for Stopping by,